Plastics
Coshocton County
Perry County
Licking County
Fairfield County
Clean Packing Peanuts:
UPS Store - 1641 N. Memorial Dr.,
Lancaster 740-654-5335
(hours M-F 8:30-6:30, Sat 8:30-3:00)
UPS Store - 1209 Hill Rd., Lancaster
614-575-1166


Community Action
1761 E. Main St.
Lancaster, OH 43130
740-687-1295
(residential #1 and #2 bottles and jugs only)
Packing Peanuts:
Boxes and Bows - Granville 740-587-1040

SBC Solutions Group
6589 Bennington Chapel Rd.
Centerburg, OH 43011
740-893-3567
(residential and industrial plastic)



Denison University
1385 North Pearl St.
Granville, OH 43023
(residential #1 and #2 bottles only)
Perry County Recycling Center
2235 St. Rt. 13 NE
New Lexington, OH 43764
740-342-5156
(residential #1 and #2 bottles and jugs only)
Plastic shopping bags (marked #2 HDPE) can be recycled at Giant Eagle, Walmart, Meijer, Carnival Foods, and Kroger stores throughout the District.

Coshocton-Fairfield-Licking-Perry Solid Waste District 675 Price Rd. Newark, OH 43055 PH: 740-349-6308 Fax: 740-349-6309 email: cflpswd@windstream.net


Plastic flower pots and containers can be recycled at all Lowes Garden Centers.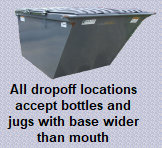 Plastic Regrinders, Inc.
3161 Cooperriders Rd. NW
Glenford, OH 43739
740-659-2346
(poly drums and buckets, other industrial plastics - grinding service)