Coshocton-Fairfield-Licking-Perry Solid Waste District 675 Price Rd. Newark, OH 43055 PH: 740-349-6308 Fax: 740-349-6309 email: cflpswd@windstream.net


UPCOMING MEETINGS AND EVENTS
(click on the event for further details)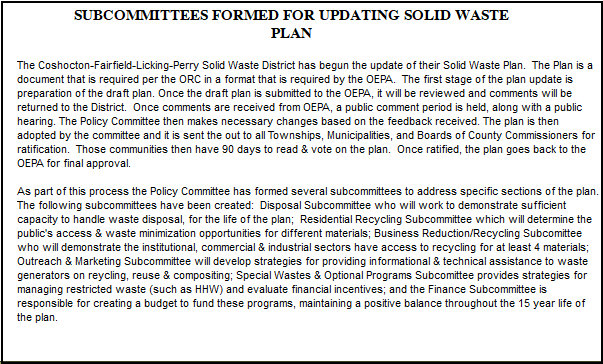 The meeting will begin at 9:00 am. Purpose of the meeting is to conduct regular business including designating facilities to receive our solid waste. The meeting will be held at the Licking County Transit Building, 745 E Main St, Newark.
The meeting will begin at 10:00 am. Purpose of the meeting is to review implementation of the plan and elect officers. The meeting will be held in the Donald D. Hill County Administration Building, 20 South Second St, Newark.
You Ratified the Plan!

Our counties, municipalities and townships have approved the draft solid waste management plan and it is now in the hands of Ohio EPA for their review and final approval. We will know in 90 days if it has been approved and can be implemented.

The biggest change to this plan is directing where waste generated in our four counties may be disposed. If facilities outside the district wish to receive our waste, they may apply for a waiver that will involve payment of a waiver fee. This is designed to stop the loss of revenue sustained when haulers take our waste to other solid waste districts for disposal, thereby avoiding our disposal fee.

We are pleased that a major project from the current solid waste plan is nearing completion. Almost $2 million was invested in the Fairfield and Perry County recycling centers that process recyclables from the countywide dropoff programs. Having two local independent processing centers ensures that a monopoly in service provision doesn't occur and raise costs beyond our budget. Both centers have new sorting equipment that will help them process materials better and faster, increasing their capacity for helping Licking and Coshocton Counties with their materials.