Coshocton-Fairfield-Licking-Perry
Solid Waste District
Coshocton-Fairfield-Licking-Perry Solid Waste District 675 Price Rd. Newark, OH 43055 PH: 740-349-6308 Fax: 740-349-6309 email: cflpswd@windstream.net


District News

UPCOMING MEETINGS AND EVENTS
(click on the event for further details)
The meeting will begin at 9:00 am at the Donald D. Hill Administration Building, 20 South Second St, Newark. Purpose of the meeting is to conduct regular business.
Our roadways are a welcome center for our counties and are truly a "window to our soul". Before ever leaving their car, visitors form an impression of our communities and residents by what they see as they drive through. What are our roads telling visitors about us? Do they reflect carelessness and neglect in litter scattered about, or do they show our pride in caring for our communities and keeping them clean ?

Each of our counties participates in the state Adopt-a-Road program. You can join this effort to make a difference in your own community. It's as easy as filling out an application. To adopt one of your county or township roads, click on one of the links here.

When you become a member, your group or organization will clean a two mile stretch of road 2-4 times per year for a two year period. The local litter prevention program provides gloves, bags, and disposal of what you pick up. The feeling of pride you have when you look at the sign with your group's name on it will reflect the pride we all have in showing our best face to the world.
Adopt A Roadway Today!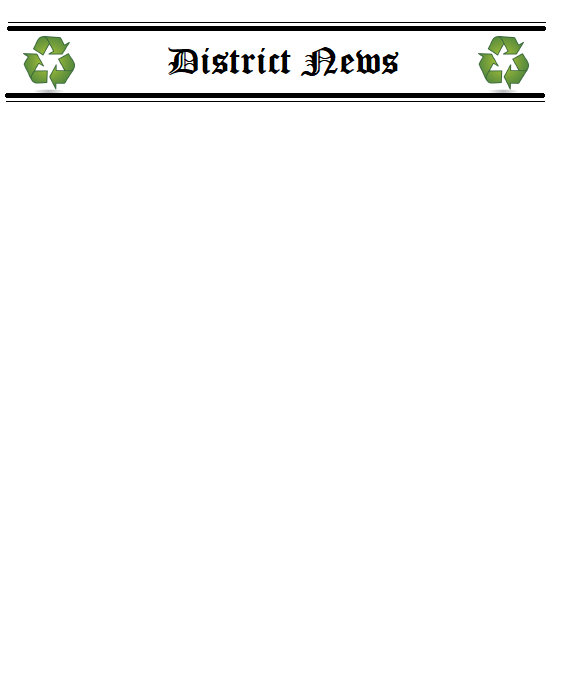 October 6, 2017 - Finance Committee
The meeting will begin at 1:00 pm at the District Office, 675 Price Rd, Second Floor - Unity Room. Purpose of the meeting is to review draft expenditure projections and create plan budget.