Coshocton-Fairfield-Licking-Perry Solid Waste District 675 Price Rd. Newark, OH 43055 PH: 740-349-6308 Fax: 740-349-6309 email: cflpswd@windstream.net


UPCOMING MEETINGS AND EVENTS
(click on the event for further details)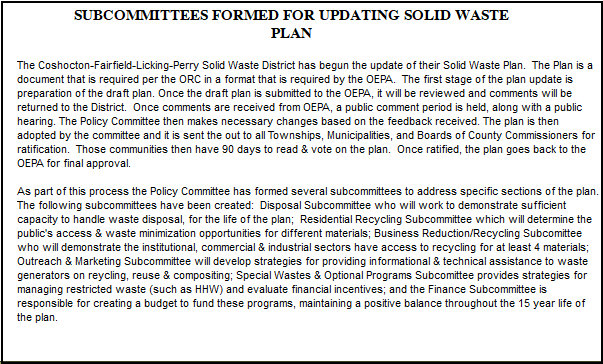 RECYCLING RIGHT

Wash out your containers before you recycle them, get all the food or liquid out of it.

Deposit ONLY the accepted materials in the bins. Every site has signage telling you what is accepted. Anything else is a contaminant and has to be sorted out as trash. That increases the cost of the recycling program!

Do not put plastic bags in the bins. Workers have to manually open every bag to get the recyclables out, and the bags are contaminants to the clean recyclables.

Do Not Leave Trash at the drop-off sites - either in or around the bins.

Please help us continue to provide this service to you by using, not abusing. If you see someone dumping at drop-off sites, get their license plate number and call your county recycling office right away.
The meeting will begin at 10:00 am. Purpose of the meeting is to discuss the ten-year budget that will be included in the next plan update. The meeting will be held at 675 Price Rd, Newark and will also be accessible by Zoom.

Meeting ID: 834 0449 6605
Passcode: 605989
August 13, 2021 - Finance Subcommittee Meeting
The meeting will begin at 9:00 am. Purpose of the meeting is to conduct regular business. The meeting will be held in the Donald D. Hill County Administration Building, 20 South Second St, Newark.